Impacted by the Quanum® Practice Solutions Sunset?
RXNT Can Help!
Looking for a replacement to the Quanum (formerly Care360) suite of EHR, E-Prescribing, Practice Management, and RCM software? RXNT's system is an integrated, customizable, and affordable solution to help you and your practice find an quality alternative before the Quanum end-of-life deadline on December 31, 2023.
In early 2023, Quest Diagnostics announced that its ambulatory-focused Quanum® Practice Solutions (formerly known as Care360) would be discontinued at the end of the. year. This impacts a number of the Quanum suite, including Quanum Electronic Health Records (EHR), Quanum Electronic Prescribing (ePre), Quanum Practice Management (PM), and Quanum Revenue Cycle Management (RCM) software, of which the Quanum EHR and Quanum ePre solutions are sunsetting entirely. What do current Quest customers need to know?
When is the deadline to find a Quanum replacement?
The deadline for current customers of Quest Quanum (formerly Care360) to transition to a new EHR and ERX solution is December 31st, 2023. As of this date, Quanum Practice Solutions will go fully offline, so it's crucial to find a viable alternative and transfer your data prior to this date.
Finding and transitioning to a Quest Quanum replacement can be challenging. Some Quest customers have used the Quanum suite of EHR, ERX, RCM, and Practice Management systems for over a decade. It's important to find a replacement that meets all of your needs and makes the onboarding process easy with the end-of-life deadline looming on the horizon.
RXNT will help you make the switch as quick and seamless as possible. Plus, our platform is affordable, integrated, intuitive, and easy to learn quickly. Better yet, we'll provide a training period and free-forever support for your entire team to make sure Quanum's sunset has a minimal impact on your practice.
How do Quanum vs. RXNT Compare?
Join the former Quanum
customers who've chosen RXNT
We've successfully onboarded multiple former Quanum® Practice Solutions customers, so we have the expertise to make it fast and easy for your practice, too. With a software solution from RXNT, you'll get get:
Quanum EHR Replacement
Streamlined Clinical
EHR & EMR Software
Keep all your patient data organized with one secure, interoperable system that will make your practice more efficient, leaving plenty of time to focus on patient care. Our software offers all the same cloud-based functionalities of Quanum's EHR, plus more. Telehealth-friendly, mobile optimized, customizable to your needs, and perfect for practices of any size.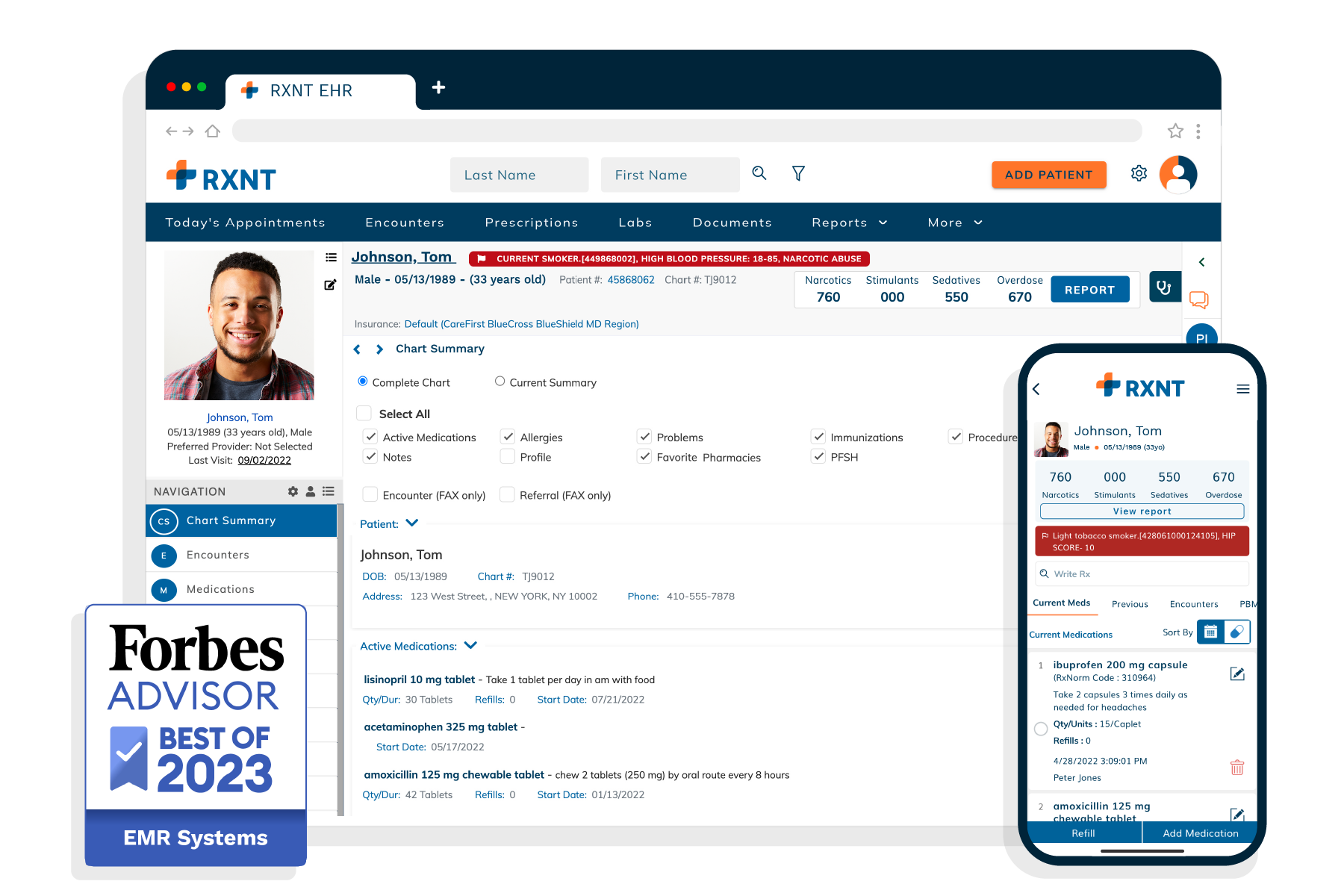 Quanum ePre Replacement
Easier, Safer Electronic Prescribing With EPCS
Deliver critical medications to your patients faster with our EPCS-certified solution that was named Best Overall E-Prescribing Software (2023) by Forbes Advisor. RXNT was an early trailblazer in e-prescribing, and our platform remains one of the industry's best; it's secure, works from almost any device, and automatically checks for errors, allergies, and drug interactions to keep your patients safe.
"[RXNT] is clean, it's streamlined, and it takes a lot of the guesswork out of what we do."
Liz Miller
Quanum PM Replacement
Tools to Manage Your Practice Operations
Manage your practice's operations through one simple, integrated solution designed to work for every kind of ambulatory medical provider. From practice scheduling and patient reminders to medical billing and claims management, all the administrative tools you need are just a click or tap away. Integrates seamlessly with our other solutions to let you track financial records, generate custom reports, and make informed decisions to help grow your practice.
Quanum RCM Replacement
Better Billing & Revenue Cycle Management
Save time and money with an intuitive billing system that makes your financial workflows a breeze. We offer all the essentials found in Quanum's RCM product and more, like integrated clearinghouse services and seamless patient record and scheduling connectivity. From customizable advanced reporting and analytics to intelligent claim scrubbing and eligibility checks, billers can use RXNT to improve their revenue cycle and get paid faster.
Ready to improve your practice?