Mobile Practice Management Software
Maximize efficiency with mobile apps for iOS and Android.
Practice Management System with a Mobile App
Medical practices strive to provide excellent patient care while keeping costs low and productivity high. Administrative tasks like billing and scheduling need to be handled quickly and accurately to meet these goals, and without the right tools, traditional practice management can take up valuable time and distract from quality patient care.
That's why many healthcare organizations use practice management (PM) software. These systems allow staff to work on a number of essential tasks within one interface, with a single sign-on (SSO). RXNT's integrated PM system comes with an integrated mobile app for iOS and Android, to help you manage your practice.
Improve billing using RXNT's Practice Management app
RXNT's PM medical billing software comes with all the features you need in a Practice Management system: scheduling, patient reminders, online bill pay, central billing office functionality, and much more.
Charge capture
You also get a free mobile charge capture app that lets physicians document procedure, diagnosis, and modifier codes at the point of care. Available for iOS and Android, this app helps ensure patients are billed for the correct services and speeds up the revenue cycle by preventing claim denials.
Cloud-based technology
Our medical billing software and app uses the latest cloud-based technology. Information entered into the mobile charge capture app syncs automatically with your desktop medical practice management system to keep you up to date. With a charge capture tool in the palm of your hand, you can foster greater patient trust and simplify the billing process for office staff.
Why choose our mobile billing software for your practice?
RXNT's mobile PM system is ideal for practices and billing companies of all sizes. A few of the highlights include:
A secure single sign-on (SSO) allows you to access billing information for multiple practices, simplifying multi-site billing while keeping data protected. Our medical billing software and mobile app are both Health Insurance Portability and Accountability Act (HIPAA) compliant.
Streamline the billing process with customizable reporting. Our PM software allows you to configure and edit every field of a report from the billing workflow without disrupting other reports.
Built-in claim scrubbing, denial management, automated eligibility checks, and electronic remittance advice tools make it easy to check billing codes for accuracy and track claims from start to finish.
RXNT's medical billing software with a mobile app integrates seamlessly with other healthcare technology solutions, including electronic health records and electronic prescribing. Our affordable Full Suite of products improves practice efficiency and profitability at every level.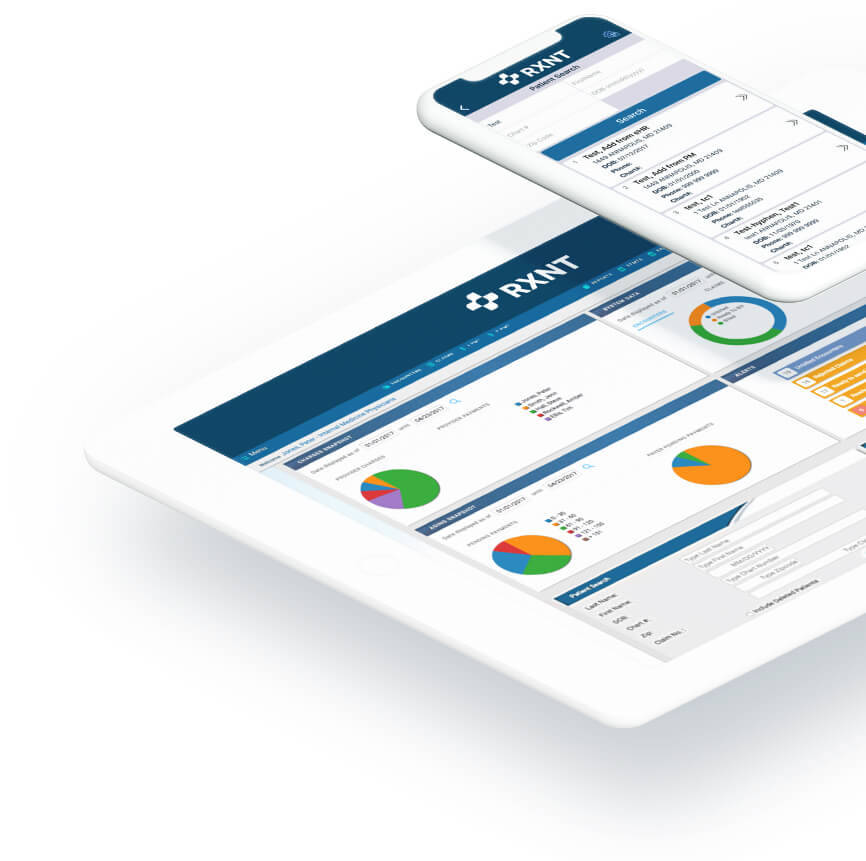 Start using RXNT's medical Practice Management system with a mobile app
A practice management system with mobile app can help you complete administrative tasks quickly and bill patients accurately, whether you're in the office or on-the-go. To see how RXNT's mobile charge capture app will transform your workflow, contact us to schedule a live demo or enroll in a software plan today.