Cloud-based Practice Management System
Maximize efficiency and improve patient care.
Practice Management System Software
To serve patients with the best possible level of care, medical practice staff must manage a significant amount of work behind the scenes. Some of the daily administrative tasks include patient scheduling, billing, and reporting. Without the right tools, these tasks are time-consuming and ineffective.

To improve efficiency and make billing and reimbursement easier for healthcare organizations of all sizes, RXNT offers a unique Practice Management (PM) software system. Our medical office management software can ease administrative burdens and allow your team to focus on giving patients the care they need.
What is medical practice management software?
Medical practice management software is a type of medical billing software that can send referrals and allow office staff to complete other tasks within a single system. The main goal of PM software is to maximize practice efficiency, revenue, and profitability. RXNT's medical practice management software combines billing and scheduling functions to make administrative work faster and more intuitive.
Schedule appointments across locations
Schedule appointments across locations, send secure patient reminders, bill for services, manage denials, perform automated eligibility checks, receive electronic remittance advice (ERAs), and more.

RXNT's PM is a cloud-based medical billing software, so you can manage your business from anywhere on almost any device. This results in a workflow that promotes faster reimbursement, more accurate charges, and stronger patient relationships.
Benefits of RXNT's Practice Management system software
When choosing a digital patient billing or electronic medical scheduling software, you have plenty of options. However, RXNT's PM software includes all the office management features you need to run a successful healthcare practice, including:
Users can access RXNT's medical billing management software with a single sign-on, simplifying operations for central billing offices. If your staff handles billing for multiple locations, this function is essential for maximum productivity.
RXNT's PM software can keep track of scheduled appointments and send automatic patient reminders through secure texts, email, or phone calls. Reminders strengthen relationships with patients and prevent no-shows to increase practice profitability.
Inaccurate billing codes can damage relationships with patients and cause claims to be denied and rejected. RXNT utilizes built-in claim scrubbing to detect and eliminate billing code errors, resulting in faster reimbursement and fewer headaches for billing staff.
Reporting makes up a large part of practice management. With RXNT's PM system, you can configure robust, custom reports and edit them inside the billing workflow without disrupting other reporting.
Our medical billing management software system fully integrates with other healthcare technology, including our Electronic Health Record (EHR) and Electronic Prescribing (e-Rx) products. Bringing these solutions together can help you further increase efficiency and see an even higher return on investment.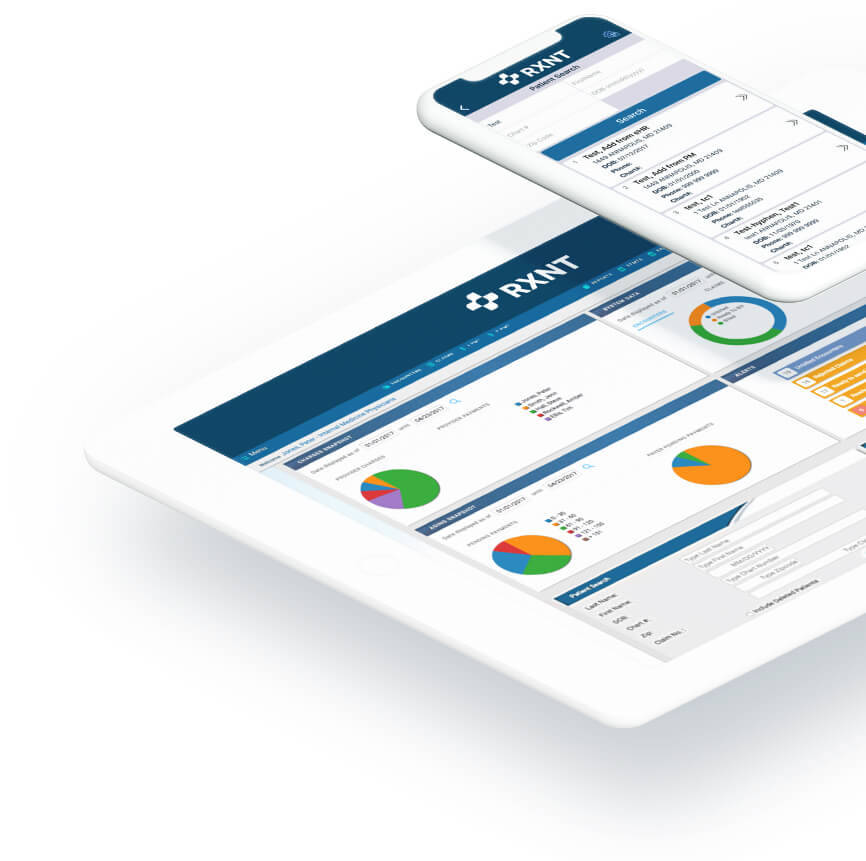 Get started with medical billing practice management software
Get reimbursed faster, prevent billing errors, and keep your practice running smoothly. At RXNT, we're dedicated to helping practices improve their administrative efficiency to serve patients better. When you choose our PM system, you'll get access to implementation, training, updates, and U.S.-based support at no additional cost, so you can make the most of your software from the beginning.


Schedule a live, personalized demo
To get started with RXNT's medical billing practice management software, contact us to request a live, personalized demo today.