Innovative Electronic Prescribing (eRx) Tool
Provide excellent care to patients, while maximizing efficiencies.
Electronic Prescribing Systems
Healthcare organizations want to provide excellent care to patients while maximizing efficiency. Unfortunately, writing paper prescriptions by hand can lead to costly inefficiencies and dangerous errors, and calling pharmacies directly can be frustrating. Prescribers may have to wait to contact a pharmacist, which can delay patients getting the medications they need and take time away from what medical staff members do best—serving patients.
To improve efficiency and quality of care, RXNT offers an innovative Electronic Prescribing (e-Rx) tool. Learn more about the power of electronic prescribing systems below.
What are e-Rx software systems?
An electronic prescribing system allows users to send prescriptions electronically from anywhere using almost any internet-connected device. These systems use cloud-based technology to connect prescribers, patients, and pharmacists by streamlining the e-prescription process for all parties.
At the touch of a button
In addition to sending prescriptions, e-Rx software system allows you to view a patient's medication history and manage your healthcare business using the comprehensive reports it generates. Essentially, e-Rx software is an electronic prescribing tool you can use to move away from inefficient prescribing processes while maintaining compliance and patient satisfaction.
Our e-prescribing system offers a number of advantages
When you use an e-prescribing software in your healthcare organization, your prescribing staff can send prescriptions for controlled and non-controlled substances directly to a range of pharmacies. They can even authorize refills at the touch of a button. At the same time, your e-Rx software system will perform automated interaction checks to assure patient safety.

Because it lets prescribers perform many prescription-related functions easily, an e-prescribing system can change how healthcare organizations operate. At RXNT, our e-prescribing platform comes with the following benefits for physicians, prescribers, dentists, administrators, and other healthcare professionals:
RXNT e-prescribing software is ONC-ACB, Surescripts, and DEA certified. Our e-Rx software is EPCS-certified so you will satisfy state and federal regulations for prescribing controlled substances. Plus, it meets or exceeds all HIPAA regulations.
Our e-Rx software reduces the risk of error and provides access to medication history and integrated databases for drug-drug, drug-allergy, and drug-diagnosis interaction checks, enabling providers to protect patients and prescribe the most appropriate drug in every case.
The RXNT electronic prescription software system supportd automated refill notices and electronic prior authorization (EPA), and is connected to all U.S. retail and mail pharmacies. These features can help your healthcare organization boost efficiency and reduce employee workload.
Our e-prescribing software is available as part of the RXNT fully-integrated healthcare technology package with no interface needed or as a stand-alone product that integrates with most electronic health record systems.
One low annual cost includes implementation, training, and support.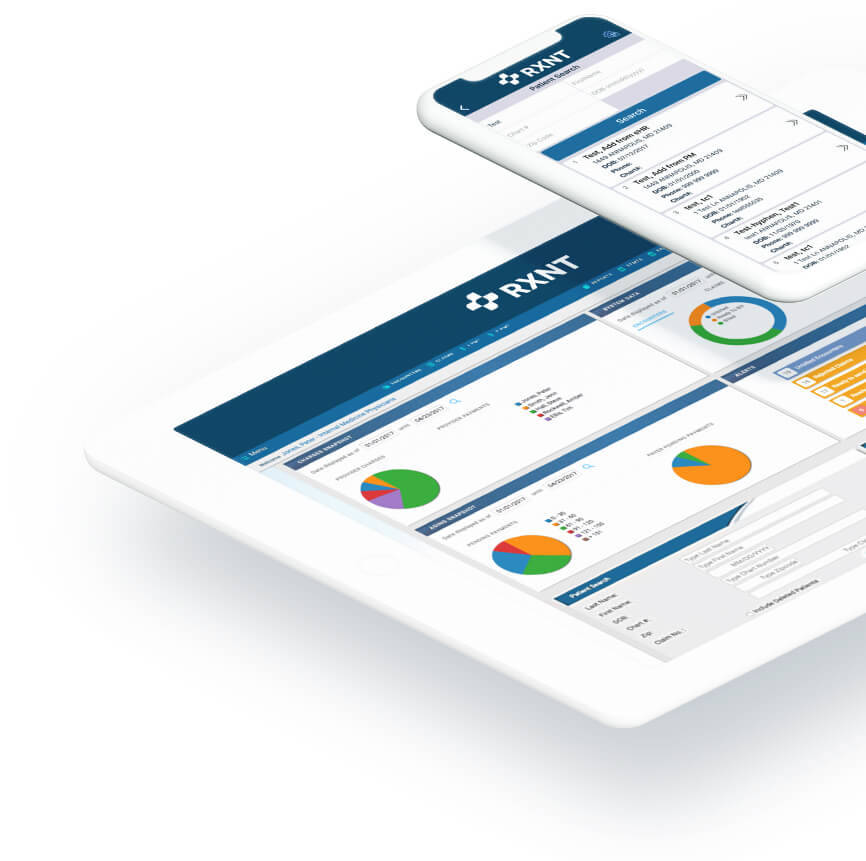 Get started with RXNT
RXNT has been an e-prescription software industry leader since 1999. Today, we continue to offer feature-rich healthcare technology and excellent customer service at an affordable price. Whether you're moving away from paper prescriptions for the first time or looking for a new software partner, we can provide the support you need during implementation and beyond. To get started with one of our flexible electronic prescribing solutions, contact us or request a demo today.