Mobile Electronic Prescribing Software
Write prescriptions more efficiently via iOS and Android.
Electronic prescribing software with a mobile app
Handwriting prescriptions, sending faxes, and waiting to speak with pharmacists over the phone can slow down your day-to-day process. These manual tasks take valuable time away from what you do best—delivering patient care.

To overcome the administrative challenges of writing prescriptions, many healthcare organizations use electronic prescribing software. This technology allows you to send prescriptions directly to the pharmacy from a desktop computer or mobile device, getting patients the medications they need much faster.

RXNT offers medical e-prescribing software with a mobile app for iOS and Android devices to help our customers write prescriptions more efficiently.
What is mobile medical prescription software?
Mobile electronic prescribing software (e-Rx) allows users to send prescriptions from anywhere using an integrated mobile app. Our software is cloud-based, so you can access up-to-date information from any device and send prescriptions in the office, at home, or at a patient's bedside. Our e-prescribing mobile app is available on both iOS and Android, and comes included in your e-Rx software subscription for no additional cost.
Why use medical e-Rx software with a mobile app?
RXNT's e-Rx solution lets you send prescriptions easily and reduce the time spent on administrative tasks. Our e-prescribing software with mobile app streamlines your workflow. Send prescriptions and perform other prescribing functions from wherever you happen to be.
With medical electronic prescribing software in the palm of your hand, you can reduce the likelihood of error and improve patient satisfaction while maintaining compliance. The benefits of our mobile medical prescription software include:
Our e-prescribing app is Surescripts-certified and complies with the Health Insurance Portability and Accountability Act (HIPAA) and the Electronic Prescribing of Controlled Substances (EPCS) ruling. You can use RXNT's e-prescribing software to securely submit prescriptions for class II-V medications.
Information entered into the mobile app automatically syncs with the software on your desktop to keep data accurate and simplify your workflow.
Our electronic prescribing mobile app comes with the same safety features as the e-Rx software. Access patient-specific formularies to select the most appropriate medications, view up-to-date medical histories, and complete automated drug-drug, drug-allergy, and drug-diagnosis interaction checks from anywhere.
We allow unlimited access for non-prescribing staff at no additional charge, so you can keep your whole team informed for an affordable price.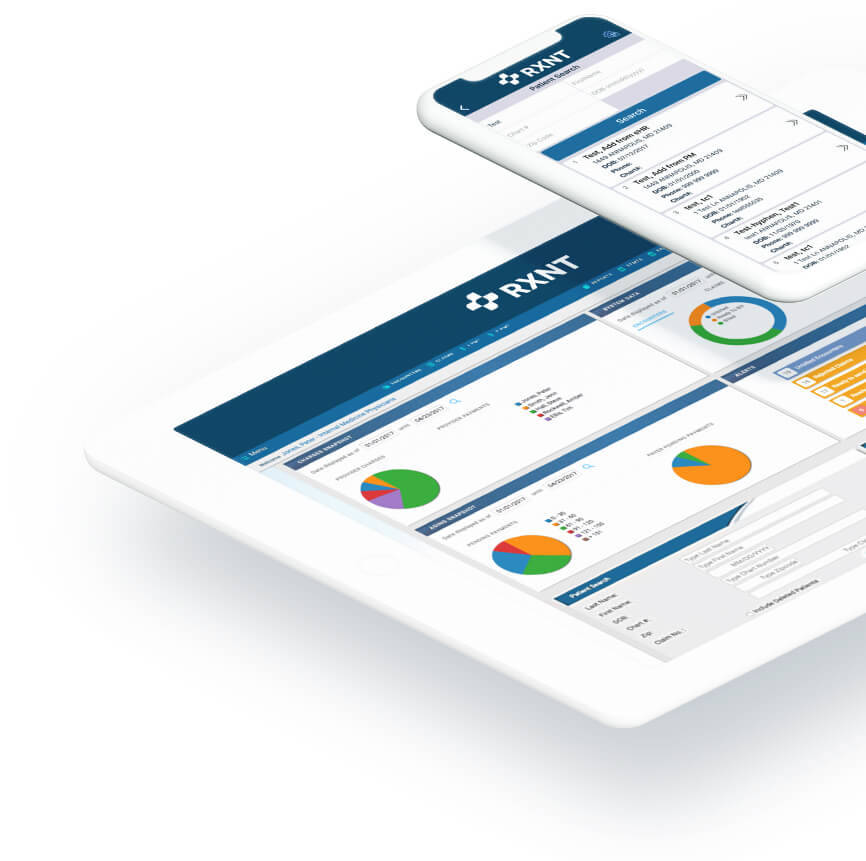 Start using RXNT's eRx software with a mobile app today
Since 1999, we've offered innovative, feature-rich software for the healthcare industry, including the introduction of mobile applications. Our e-prescribing customers receive free setup, training, automatic updates, and ongoing, U.S.-based technical support.

To see how RXNT's mobile medical prescription software could improve your practice, contact us to schedule a demo or enroll in a software plan today.