Electronic Health Records for Providers
Trusted, efficient, and budget-friendly.
Healthcare providers have numerous unique challenges related to record keeping. To satisfy insurance companies and regulatory bodies, they need to store patient data accurately and securely. At the same time, providers must work efficiently and maximize productivity to ensure long-term success. Electronic Health Records (EHR) can help healthcare providers address these challenges by streamlining workflows and managing patient information better.
At RXNT, we believe all providers should have access to the tools they need to minimize tedious administrative work and spend more time serving patients. That's why we offer efficient, budget-friendly Electronic Health Record software for providers of all sizes and specialties.
What are Electronic Medical Records for providers?
Electronic Health Records (EHR), also known as Electronic Medical Records (EMR), allow healthcare providers to manage patient information and complete other administrative tasks within a single software system. RXNT's cloud-based EHR software enables medical staff to update patient charts, send faxes, communicate with patients via included patient portal EHR software, and write prescriptions and referrals from almost any internet-connected device.
ONC HIT Certification
At RXNT, our integrated EHR software has been certified by the Office of the National Coordinator for Health Information Technology (ONC). This ONC HIT certification gives our customers confidence in our system's technical capabilities, connectivity, and interoperability.
How does EHR software benefit healthcare providers?
Many varieties of specialized providers benefit from efficient EHR software, including small family practices, large hospitals, specialized clinics, and solo practitioners. Some of the features you can expect when implementing our electronic health records software include:
Providers can fill out patient charts however they prefer. Customizable and specialty templates make data entry fast and painless, while upholding information accuracy to prevent medical errors.
Patients and providers can communicate more easily with RXNT Electronic Health Records. Our EHR platform comes with an integrated patient portal, which allows individual patients to schedule appointments, pay bills, view medical documents, send messages to physicians, and more. Appointment reminders through the patient portal EHR software prevents no-shows, and personal conversations strengthen the patient-provider connection.
Send secure documents to anyone who needs them, right from the workflow. Our cloud-based system supports data exchange with patients, payers, health registries, and other healthcare providers.
RXNT Electronic Health Records for providers allow you to register unlimited users within your organization. Our licensing fee only applies to prescribing staff, so you can keep your entire team informed for a reasonable price.
RXNT's EHR can also help your organization meet Medicare Access and CHIP Reauthorization Act (MACRA) requirements and earn Merit-Based Incentive Payment System (MIPS) rewards, which can play a role in long-term financial success.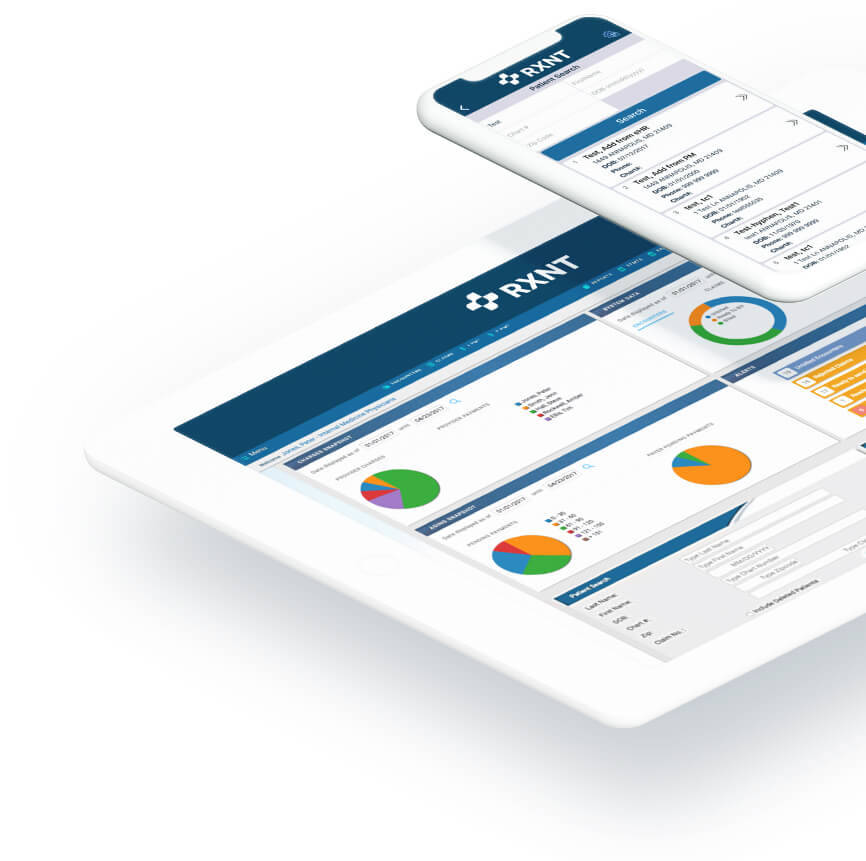 Start using RXNT Electronic Health Records
Since 1999, RXNT has created high-quality, feature-rich software for the healthcare industry. Today, we offer a full suite of technology solutions, including EHR software, for providers of all sizes. When you choose RXNT as your partner for Electronic Health Records software, you'll gain access to setup, training, regular updates, and a U.S.-based customer service team prepared to support you during implementation and beyond.
To see how our EHR software could solve unique challenges in your healthcare organization, contact us today and schedule a live, personalized demo.