Affordable Practice Management Software
Keep productivity high, and operating costs low.
Cost-Effective Practice Management
Medical practices work hard to provide quality patient care. At the same time, they strive to keep productivity high and operating costs low—both to minimize costs for patients and ensure long-term viability. Practice Management (PM) software is designed to help practices maximize efficiency and profitability, yet the cost of medical software solutions may prevent some organizations from reaping the benefits.

We believe healthcare organizations deserve access to the technology they need to thrive. That's why we offer affordable PM software.



Affordable PM software will boost your profitability
PM software merges billing, scheduling, and other administrative tasks into a single, easy-to-use digital system. With a variety of administrative functions available in one workflow, RXNT's PM software speeds up the administrative process, keeping costs low and improving revenue cycle management.

Receive payments more quickly, prevent costly no-shows with patient reminders, and resolve and prevent claim denials. Medical practice management software can boost your organization's overall profitability.
Cloud-based accessibility
Access our cloud-based PM software from anywhere using almost any device. Always-on cloud accessibility prevents system downtime and allows staff to work productively, even when not in the office.
Seamless integration
Practice Management software comes with even more financial benefits when integrated with other healthcare technology solutions. Our affordable PM software integrates seamlessly with our Electronic Health Record (EHR) and electronic prescribing (e-Rx) solutions to improve profitability across your organization.
Included training and support
Make the most of your software from day one with RXNT's PM system. We include set-up, training, upgrades, and ongoing U.S.-based support in the price of our medical software solutions.
Prices for medical practice management software
The cost of medical practice management software shouldn't keep you from experiencing the financial benefits. We make software accessible to healthcare organizations of all sizes and specializations. Here are our price options for medical PM software solutions:
For small practices with modest software requirements, we offer a monthly subscription to our Practice Management solution. For $150 per month, you'll get access to patient and resource scheduling, claims and denial management, and more.
We offer Practice Management on an annual subscription basis for $1,600 per year—a 10% discount compared to the monthly payment option.
For the best return on investment, consider a subscription to our fully-integrated suite of software products. The system includes Practice Management, Electronic Health Records, Electronic Prescribing, and mobile applications for just $230 per month.
A yearly Full Suite subscription offers the best value, giving you access to our entire software family for $2,500 annually—a 10% discount compared to the monthly subscription. This option is perfect for providers committed to improving efficiency throughout their business.
Choose the option that best meets your budget requirements, or consult an RXNT team member to learn more about our plans and pricing.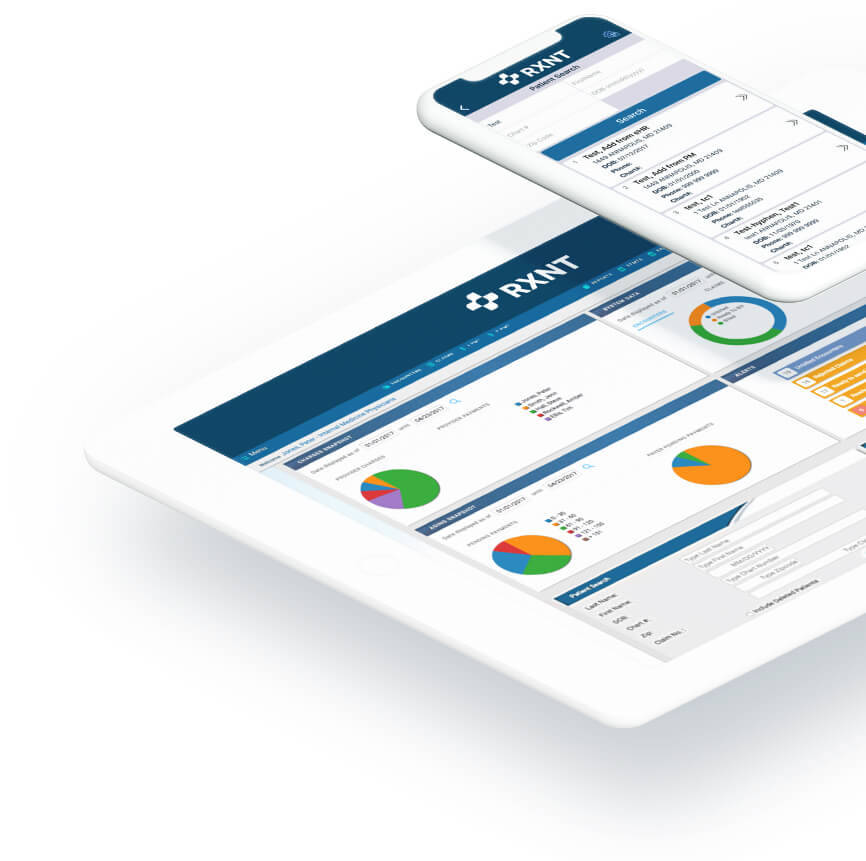 Get started with RXNT's PM system today
Since 1999, RXNT has provided high-quality, feature-rich software for the healthcare industry. Today, we offer a full suite of technology solutions, including cost-effective Practice Management software, for providers of all sizes. To see how our PM software will improve your practice's efficiency, contact us today and schedule a live, personalized demo, or enroll in the software plan that fits your needs.